The
Idea
We are on a mission to eliminate paperwork and its errors and delays from the ecosystem of home offices, advisors, and investors while streamlining your business workflows. From automating account opening and advisor onboarding to document management and beyond, Docupace keeps you efficient, productive, compliant, and ahead of schedule, 100% of the time.
The
Platform
Our flexible and turnkey platform can be configured to leverage solutions specific to your firm's goals and needs.
Document Management
Consolidate all of your firm's forms and records into one organized, secure, online database that meets the demands of SEC Regulations 17a-3 and 17a-4. Access what you need, when you need it, and always be ready for an audit.
Key Features:
Secure Storage and Collaboration
SEC and FINRA Books and Records Compliant
Indexing, Search and Retrieve
Centralized and Decentralized Scanning
Event Based Retention
Forms Processing
Pull the correct forms for every transaction, watch them populate automatically with client data, synchronize fields across multiple forms, and process e-signatures effortlessly through best-in-breed partners like DocuSign and SIGNiX.
Key Features:
Standard and Custom Forms Library
Intelligent Forms Bundling
Data Validations
Forms Pre-population and Data Synchronization
Embedded eSignature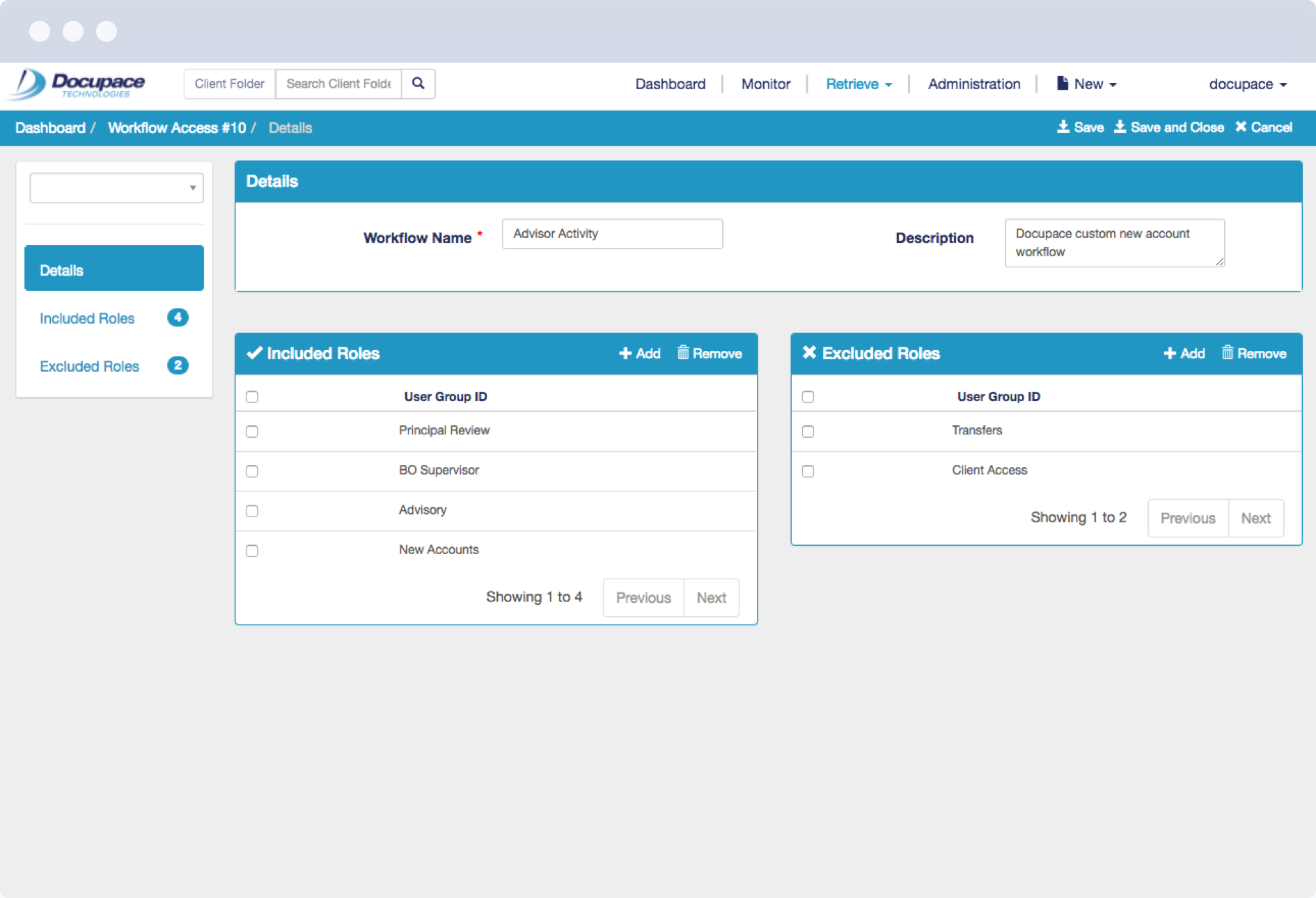 Workflow and Validations Engine
Our sophisticated workflow engine makes it easy to automate your compliance and business process rules. Take advantage of easy-to-use pre-built workflows. Then, design your own workflows to increase productivity and compliance.
Key Features:
Standardization and Data Synchronization Engine
Intelligent Routing
Alerts and Notifications
Business Rules
Configurable
Security and Compliance
Maintain SEC/FINRA compliance easily throughout many parts of your organization. Devices, Data, and Documents are secured through encryption. PII & SPI are protected from security threats.
Key Features:
Cyber Security
PII and SPI Encryption
Monitoring and Reporting
Audit Assistance with FINRA/SEC (D3P)
Role Based Hierarchical Access
APIs and Integrations
Move seamlessly through your software ecosystem and the investment lifecycle via integrations with leading CRMs, financial planning software, data managers, e-signature platforms, clearing houses, custodians, and more.
Key Features:
REST APIs
Widgets
CRM Integrations
Portfolio Management Integrations
Clearing and Custodian Integrations
Your Platform,
Your Rules
Take the tools that suit your needs, leave the ones that don't.
Account Opening
Paperless Application Processing
Centralized Vault
Document Management
Smart Forms
Forms Wizard and Automation
Advisor Onboarding
Processing of New Advisors
Transition Assistant
Successfully Transition Client Data
Data Room
Document Collaboration
Complaint Mail
SEC Mandated Mailings
Advertising Review
Advertising Compliance Review
Alternative Investments
Processing for Alternative Investments